The Effectiveness of the Zoom! Teeth Whitening Technique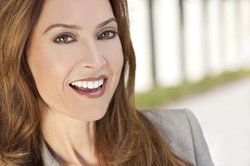 Whiter teeth don't just transform your smile; a brighter smile enhances your entire face. That goes a long way to explaining why teeth whitening is one of the most popular cosmetic treatments today.
Dr. Daniel Whiteman, serving Brookline and greater Boston, uses the Zoom!® Teeth Whitening Technique for improving the smiles of his patients. Using either professional in-office or at-home treatments, he transforms the color of his patients' teeth rapidly and with better results than over-the-counter products.
Zoom! In-Office Treatment
Zoom!® in-office treatment allows you to walk in with discolored teeth and walk out in about an hour with teeth on average eight shades brighter.
The process is both quick and safe. The first step is applying special guards that protect your gums and soft tissue. Then, a powerful whitening gel is applied to your teeth and activated using the Zoom!® light. This one-two combo allows the whitening agent to penetrate tooth enamel and reach even deep stains. The process is typically carried out three times in 15-minute intervals.
The results are immediate and long lasting. In fact, your teeth will become even whiter in the coming weeks.
Take-Home Kits
Dr. Whiteman also offers Zoom!® take-home kits for patients who prefer at-home convenience. The take-home kits use a dental tray that is created from a mold of your teeth, ensuring the exact match that promotes the even application of whitening gel and stunning results. The trays are filled with a professional grade whitening gel that is milder than the in-office treatment so you can use it at home without professional supervision.
The at-home treatment offers results that are similar to the in-office method, while giving patients the convenience of whitening their teeth on their own schedule. You will see results quickly and have pronounced whitening within a couple of weeks.
Next Steps
Though often overlooked, an oral exam is an important first step in any whitening treatment, whether done professionally or with an over-the-counter product.
With a dental exam, Dr. Whiteman can uncover what caused the tooth discoloration to determine if teeth whitening will help you. Unfortunately, teeth whitening products do not work on all stains. However, if you have discoloration that cannot be fixed by teeth whitening, Dr. Whiteman will explain alternative treatments to solve the problem.
While examining your teeth, Dr. Whiteman will take note of any restoration work, such as crowns or veneers. Because the color of restoration work is not affected by teeth whitening, he can anticipate issues that you should consider before undergoing a whitening treatment and suggest solutions. He will also inspect for gum disease to avoid worsening the condition with teeth whitening.
If you are a good candidate for teeth whitening, Dr. Whiteman can advise you on the best whitening method for you, taking into consideration your goals, the condition of your teeth, and any sensitivities you may have.
Make an Appointment
If dull or discolored teeth are bothering you, request a personal consultation to learn if teeth whitening is appropriate for you and which method would be the best option.
Please contact Dr. Whiteman's office today.
Related to This