All-on-4® Dental Implants
Patients often require a bone graft and several months of healing time before their traditional implants can provide function and comfort.
Dr. Daniel M. Whiteman offers All-on-4® dental implants that can support a full denture immediately following placement.
Find out how patients suffering from tooth loss in Brookline and Boston, MA, can benefit from All-on-4 implants…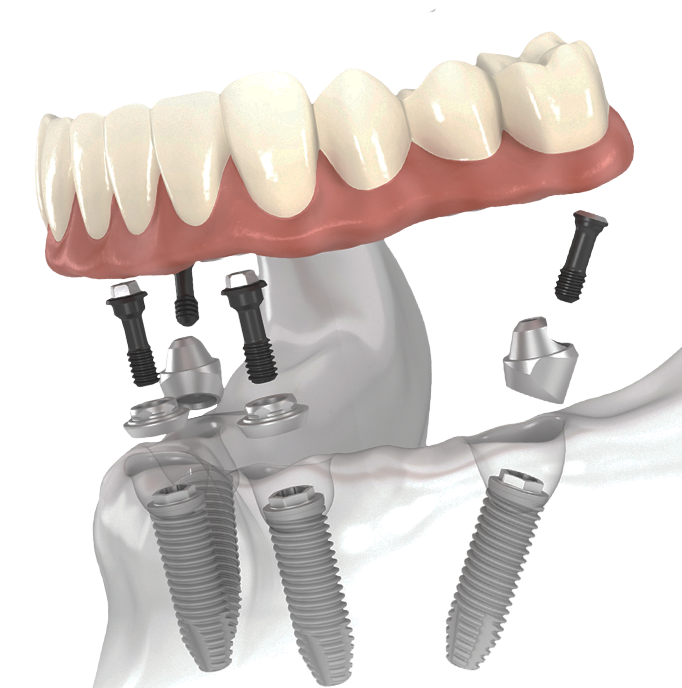 An Expedited Dental Solution
With Life-Changing Benefits
Immediate Results
Traditional dental implants
must integrate with the jaw over the course of several months before they can support a denture. If a patient needs
bone grafting
, the procedure will add months to the timeline. All-on-4 dental implants often eliminate the need for a bone graft due to special placement techniques.
Stability
If you've dealt with removable
dentures
, you understand how frustrating they can be when they slip out of place and require frequent adjustments. All-on-4 dental implants function like your natural teeth because they are anchored directly to the jaw. And because
implants halt the bone atrophy that follows the loss of a tooth
, you can expect to need far fewer adjustments.
Long-lasting Results
With proper care, All-on-4 dental implants can last a lifetime. The dentures themselves will need eventual replacement, but the implants can provide decades of invaluable benefits.
Broader Candidacy
Traditional dental implants often require bone grafting. But All-on-4 implants involve two posterior implants that are placed at angles to maximize contact with existing bone tissue, which often eliminates the need for a graft. This solution places a new set of fully functional teeth within reach for many who would otherwise have to wait close to a year!
Boosted Self-Esteem
Being able to once again speak clearly, enjoy any foods you like, and smile with complete confidence can do wonders for your quality of life. Meanwhile, the replacement teeth that make up your denture will be crafted to look completely natural!
All-on-4 vs. Traditional Dental Implants
Traditional Dental Implants
Traditional dental implants require ample jawbone tissue for support. Patients with bone loss may need a bone graft to qualify for traditional implants. This adds several months to the dental treatment timeline. To replace all teeth on the upper or lower dental arch, six to eight implants are needed. Once the implants are in place, it can take about three to six months to completely fuse with the jawbone and become capable of supporting a denture.
All-on-4 Implants
All-on-4 dental implants require less bone tissue for support, so in many cases, bone grafting is not required for treatment. Once the four implants are in place, most patients can immediately begin wearing a temporary denture that will allow them to chew and speak properly.
"The Best Dentist I've Had in My Life!"
5-Star Reviews
Dr. Whiteman is the best dentist I've had in my life, bar none. He's compassionate, humane, conservative, and his technique appears excellent. His office staff is wonderful and takes great care of us. I can't recommend the place highly enough.
View On Google
My family and I are longtime patients of Dr. Whiteman. He has never met a dental problem of ours that he has not solved, and he is always very thorough in discussing possible solutions/options. Both he and his entire staff are warm, welcoming and thoughtful. I cannot recommend Whiteman Dental too highly.
View On Google
A Dentist Committed to Going Above and Beyond
With over 25 years of dental experience, Dr. Daniel Whiteman holds his work to the highest standards. As a dentist who truly loves his craft, he treats patients as he would his own family. He prides himself on having a conservative but honest approach that focuses on your comfort and best interests. Our dental staff is warm, accommodating, and understands that finding time to get dental care can be challenging. We work with you to find a time that's convenient for you. If you are interested in finding out if All-on-4 or another dental implant solution is right for you, request a consultation online, or call our dental office serving Brookline and Boston, MA, at:
Are All-on-4 Dental Implants Right for You?
This tooth replacement solution can provide powerful benefits, but it is not for everyone. The best candidates:
Need a full-arch denture to replace the teeth on the top, bottom, or both arches
Have suffered a small degree of bone atrophy, but don't want grafting surgery
Are non-smokers in good overall health
Dr. Whiteman will thoroughly evaluate your candidacy during a consultation to determine if this or another solution is the best way to replace your teeth and meet your goals.
The All-on-4® Treatment Process
Sedation Can Maximize Your Comfort
We understand that many of our patients feel anxious in the dentist's chair, while others have conditions such as arthritis that make it uncomfortable to sit for long periods. Our dentistry office provides a range of sedation options to ensure your comfort at all times during treatment. If you feel sedation dentistry or any other accommodations would help you feel more comfortable under our care, please let us know. Dr. Whiteman in Brookline, MA, is known for going the extra mile when it comes to patient satisfaction.
"I Feel Calm and Confident Every Time I Visit!"
I have been going to Carolyn and Dr. Whiteman for years. They are amazing! I feel so comfortable there, knowing I'm getting the best dental care. They are patient, thorough, knowledgeable and so easy to talk to. Karen in the front office is a joy! I don't even live in Brookline anymore but I will not go anywhere else. I highly recommend!!
View On Google
The Whiteman Dental Associates team is clearly one of the best. Not only is the care of the highest quality, staff make an effort to make clients feel welcome and safe. Appointments are easy to schedule. Procedures, insurance issues, other questions etc. are beautifully explained. I feel calm and confident every time I visit -- which I've found is rare with dental care! I can't recommend Whiteman Dental Associates enough.
View On Google
All-on-4 and Full Mouth Reconstruction
Full mouth reconstruction is a combination of multiple dental procedures intended to completely restore smiles in any state of disrepair. This fully customizable treatment can address issues such as missing teeth, severe decay, or trauma with one comprehensive plan. All-on-4 dental implants are often an integral part of this treatment that can restore your bite once issues such as periodontal disease have been resolved.